Good Evening Everyone,
I hope you have all had a lovely weekend.I'm sorry I've not been around for a couple of days, but I've had a horrible headache, and my eyes have been killing me! I'm feeling much better now so I'll do my best to catch up with you all soon.
I do have some news to share....
There is a brand new challenge coming to a blog near you!! It's called .....
A LITTLE BIT CRAFTY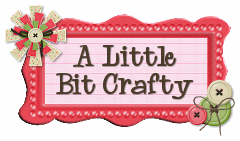 I was really chuffed to be invited to join the DT for the new challenge along with some very talented ladies. It's a monthly challenge and the first one goes live on the 1st April. There are some fabulous sponsors lined up and great prizes to be won!
I hope you will all join us!
Lorraine x